Wooden furniture has always been popular, and Wujinmu has been loved as a relatively expensive material. The furniture made by Wujinmu has a high-grade feeling. GO Jiaju Xiaobian brings you a series of knowledge from Wujin wood quality to Wujinmu furniture-barrel product recommendation, so that everyone can understand Wujinmu furniture.
What is Wujinmu?
Wujinmu is a kind of precious wood known as the "ninth kind of redwood". It is thick and hard, with high density. The internal structure is similar to the chicken wing wood in mahogany. The hole is fine and the wood grain is different. The appearance is full of personality. At present, Wujinmu furniture has a large share in the furniture market. More and more consumers want to start with a set of Wujinmu furniture. Today, Xiaobian uses Wujinmu wine cabinet as an example to come with everyone. Luxurious atmosphere of Wujinmu furniture!
Wujinmu wine cabinet recommended
A good horse with a good saddle, a good wine with a good cabinet, Wujin wooden wine cabinet is definitely a model of luxury atmosphere.
The small dining side wine cabinet acts as a guardian and lives next to the dining table. The black wood grain is smooth and natural, and it becomes the most natural decoration of the whole wine cabinet. Drawers, cabinets, neatly arranged wooden lattices, and transparent glass instantly make the wine cabinet functional.
Bar? Wine cabinet? Silly points are not clear. The designer is unique and ingeniously combines the bar with the wine cabinet to meet the needs of the consumer collection display. At the same time, it can create a comfortable and fashionable modern urban life atmosphere when the friends are drinking.
Founder's shape, symmetrical layout, this is the most traditional and original wine cabinet shape, the luxurious texture of Wujinmu, adding a distinctive noble color to it, full of natural pastoral atmosphere, creating a home life A trace of retro feeling, transparent glass, a good display of the interior of the wine cabinet, very suitable for placing in the living room, or you can also match it with the low cabinet to form a modular TV cabinet.
For more home information, please visit the GO Jiaju home website. Suyou Impression and Yuzui Furniture are all brands specializing in teak furniture. The teak wine cabinets are unique in style and fashionable. Interested friends may wish to check in. At the same time, we will also provide you with prices and pictures of various brands of furniture . A series of information such as manufacturers and brand promotions .
Copyright, reproduced please indicate the source of the article: GO Jiaju ( http:// ) offenders will be held liable.
Recommended reading:
Wine cabinet style explains how to choose the style of home improvement wine cabinet
How to choose the right wine cabinet for the size of the simple style wine cabinet
The classic teak wine cabinet is the first choice for lifestyle
Numbers & Alphabets Puzzle Mat has a total of 10 pieces numbers 0-9 and 26 pieces alphabets A-Z.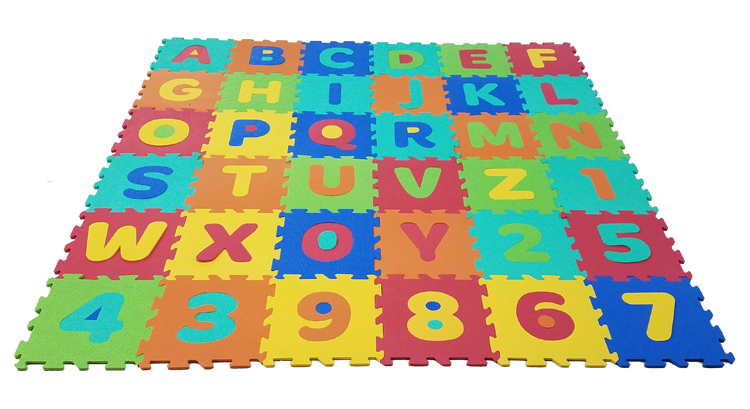 Made from bright, assorted colors that can be easily arranged to you or your child's preference. Made out of high density Eva Foam for the greatest durability and comfort. Eva foam is durable, non-toxic, premium foam that is lightweight and easy to assemble. It is also water, mold and mildew resistant which makes it easy to clean. Just wipe with damp cloth & mild soap. Build creative shapes too each letter and number can be removed from the Baby Puzzle Mat for interactive learning, allowing children to develop gross motor skills, hand-eye coordination, logic, reasoning, and visual sensory growth. Use to design play areas in homes, schools, day cares, and more. Can also be used on walls around play area. The top of the Foam Puzzle Mat is grooved with a non-skid bottom for ultimate safety and protection.
Numbers & Alphabets Puzzle Mat
Numbers & Alphabets Puzzle Mat,Alphabet Number Puzzle Mat,Numbers & Letters Puzzle Mat,Non-Toxic Toys Mat,Baby Number Puzzle Mat,Eva Number Alphabet Puzzle Mat
Huizhou Melors Plastic Products Factory , https://www.melorsfoam.com