In the home decoration design, not only the kitchen decoration design is very important, the kitchen feng shui is also very important, the kitchen feng shui will be lucky, and the disaster will be saved, and vice versa, so everyone should pay attention to the kitchen feng shui. Let's take a look at the four major flaws in the kitchen decoration Feng Shui.
1, the kitchen wall should be easy to clean, not easy to stain the wall material, but also have fire resistance, heat deformation and other functions. Kitchen smoke is very large, especially Chinese people like to fry, pay attention to the "burning gas", so that the kitchen's soot stains are difficult to remove. Therefore, the surface material of the four walls should have good resistance to oil and smoke, so that the surface can be kept clean for a long time.
2, the kitchen should use the range hood as the main, ventilation fan as the auxiliary arrangement equipment. This type of ventilating ventilation should first install a range hood on the stove. At the same time, install a ventilation fan on the roof or window to assist in ventilation, so as to remove the fumes out of the window as soon as possible, keeping the kitchen clean and dry.
3, the kitchen is the most space in the house, the storage should take into account its practicality and safety. To remove unnecessary debris from the kitchen, do not use the kitchen as a utility room, otherwise it will not only be unsightly, but also easy to breed bacteria.
4, the kitchen utensils must have the ability to resist pollution, especially to prevent the pollution of food such as cockroaches, mice, ants, bacteria, etc., in order to ensure the inherent quality of the entire kitchen. In addition, modern home kitchens should also be equipped with equipment such as cleaning cabinets and food waste shredders.
The above content is the 4 major gongs of the kitchen decoration Feng Shui, I hope that everyone can pay more attention to you after understanding, this will make your kitchen a better and cleaner, become a veritable treasure.
High Dip Galvanized Ground Screw Pile made of carbon steel :Q235 ,according to standard ;DIN EN ISO1461-1999 ,not only used on the solar energy mounting projects,but also can be use for many other fields ,such as some temporary building,for timber,flage and banner,traffice sign ,for fencing construction ,for container house,for vineyard fencing ,for bridge & . it is easy to install ,no need digging ,no-concrete ,save time and cost .no harm to environment .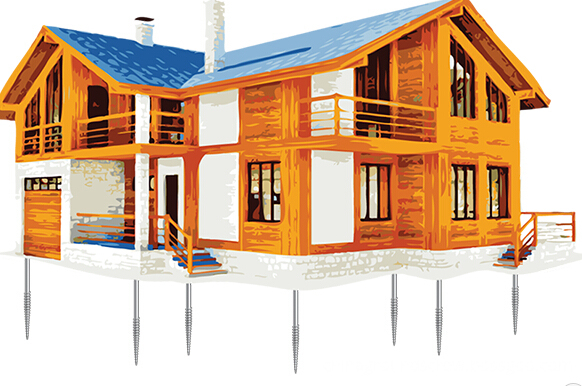 Ground Screw For Other Buildings
Ground Screw,Hdg Ground Screw ,Ground Screw For Other Buildings
BAODING JIMAOTONG IMPORT AND EXPORT CO., LTD , http://www.chinagroundscrew.com