Glycyrrhiza sinensis grows in the north temperate zone, with plains, mountainous areas or rivers at an altitude of 0-200 meters. The growth has strong adaptability to temperature. The annual average temperature of adapting to the growing climate is 12 °C, and the accumulated temperature of ≥10 °C is 2800 °C - 3500C. The frost-free period is more than 150d. The average distribution of wild licorice is 3.5 ° C to 9.6 ° C, the lowest temperature is below -30 ° C, and the highest temperature is 38.4 ° C. The adaptability to the soil is relatively strong, and the requirements for soil quality are not strict. Whether it is sandy soil, heavy soil and clay licorice can grow, licorice can also grow on saline, wasteland, and two tides. Licorice is more resistant to salt and alkali, and wild licorice is mostly distributed in neutral and alkaline soils with a pH of 7.0-8.5, and it is poorly grown in acidic soils. Licorice has strong drought tolerance. Licorice is a deep-rooted plant with a strong root and a developed root system. It can often penetrate below 3.5m underground, so it has a strong ability to resist drought.
Total 1
| <First
<Prev
1
Next>
Last> |
share to:
GF20/GF20CNC/GF25CNC Automatic Rebar Stirrup Bending Machine can bend round steel bar with diameter to various geometrics shape as required by construction.
Main Features Of Rebar stirrup bending machine
1. Convenient use: perfect safety performance, standard angle, fast speed, light and
handy.
2. Easy Operation: one man can operate it once switch on the power.
3. Convenient of range adjustment: for GF20 model, just need to shift induced magnet.
for GF20 CNC and GF25CNC model, just need to press the button on operation panel
4. We adopt two foot pedals: 90°and 135°, angle adjustment freely.
5. Fast Speed: rotate speed is 20-25 times/min (GF20), 25-30 times/min(GF25).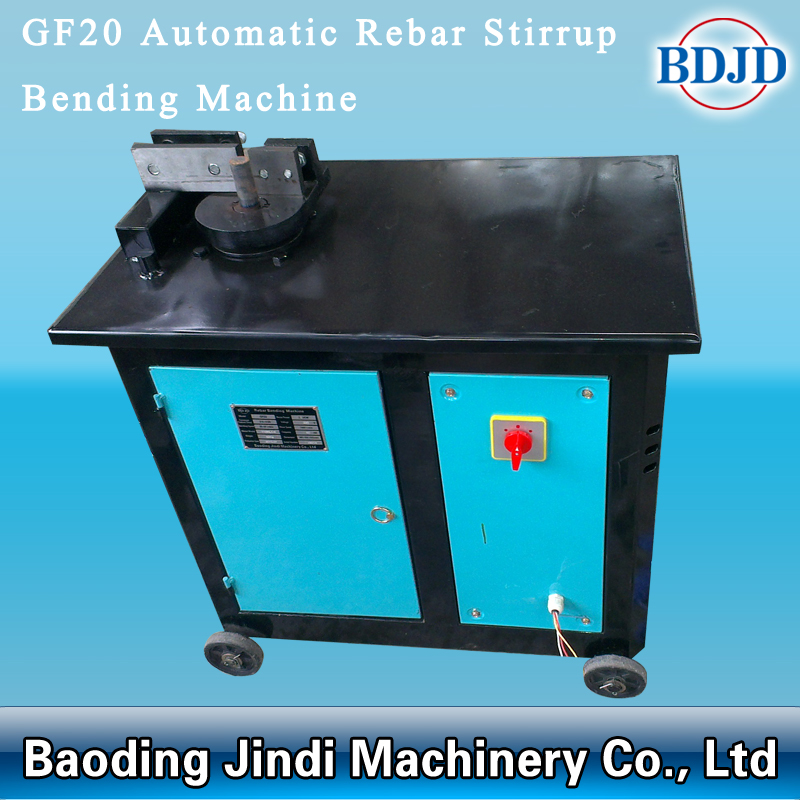 Main Technical Parameter
| | | | |
| --- | --- | --- | --- |
| Item | GF20 | GF20CNC | GF25CNC |
| Voltage | 3-380V-50HZ or others | 3-380V-50HZ or others | 3-380V-50HZ or others |
| Motor Model | Y90L-4 | Y90L-4 | Y100L2-4 |
| Motor Power | 2.2KW | 2.2KW | 3.0KW |
| Motor Speed | 1440r/min | 1440r/min | 1440r/min |
| Bending Common Carbon Steel | Φ4 – Φ20 | Φ4 – Φ20 | Φ4 – Φ25 |
| Bending Deformed Bar | Φ5 – Φ16 | Φ5 – Φ16 | Φ5 – Φ20 |
| Weight(kg) | 92±5 | 92±5 | 92±5 |
| Dimension (mm)(L*W*H) | 800×520×820 | 800×520×820 | 800×520×820 |
Rebar Stirrup Bending Machine
Automation Rebar Stirrup Bending Machine,Hand Operated Rebar Bending Machine,Construction Material Rebar Bending Machine,Used Hydraulic Rebar Bending Machine
BAODING JINDI MACHINERY CO., LTD , https://www.rebarconnector.com